Conference: Plagues in Sierra de Baza (Spain)
01/24/2018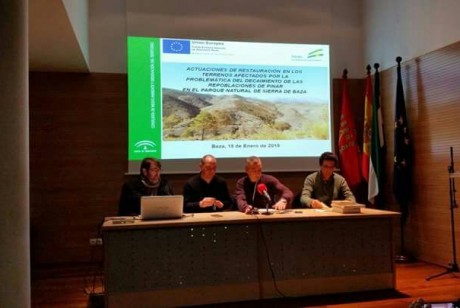 Last Thursday, March 18th, the Sierra de Baza Natural Park organized a conference to inform about the work being done to solve the problem of decay that is affecting the pines of the Natural Park. The problem of pests in the Sierra de Baza, has caused great social alarm, especially among the environmental and hiking associations. IES Pedro Jiménez Montoya was invited by the Director and chief representative of the Natural Park, Mr. César Córdoba with whom we maintain a close collaboration since his inclusion as a partner in the
IMPRINT project.
Apart from the Natural Park management, the City Council, represented by the councilor for the Environment, was also present in this event showing the collaboration of the different administrations to protect our natural environment.
As it has been mentioned previously, both institutions cooperate actively with IES Pedro Jiménez Montoya in the implementation of the IMPRINT+ project in Baza and its surroundings. During the conference, the attendees learnt about the adequacy of the repopulation carried out in the last century, the species used in the reforestation, the need to protect the soil from erosion, or the new techniques to fight against pests from an environmentally sustainable point of
view.
Along the lines of this talk, during the IMPRINT + meeting held in Baza, both pupils and trainees had the opportunity to plant trees in the protected area of the Natural Park, to redirect water to a raft in order to facilitate the reproduction of the midwife toad, or to collect garbage in the natural environment. For all this, it has been very interesting to know firsthand that actions are being carried out to fight against the plagues affecting